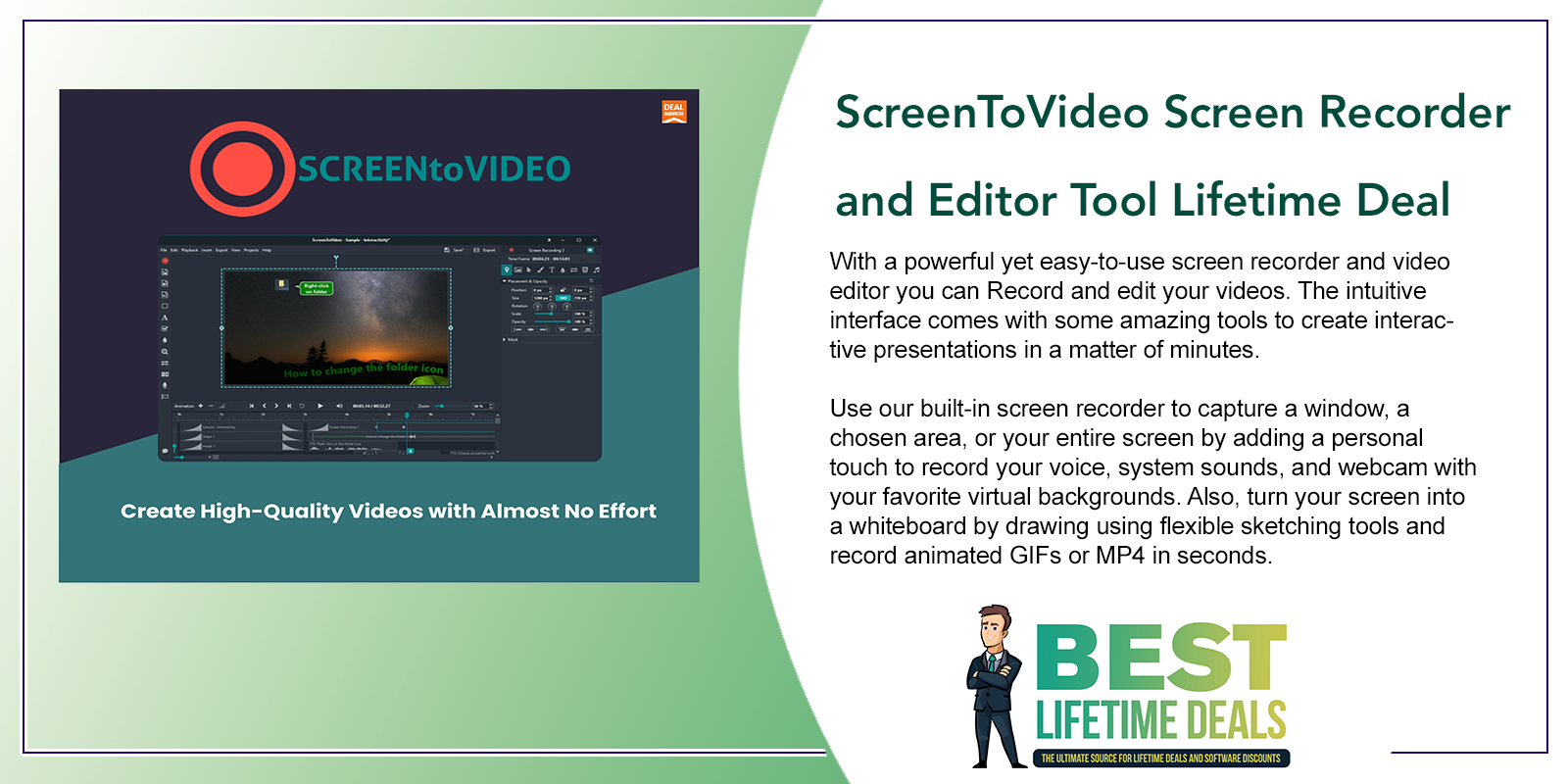 Choose Your Desired Option(s)
ScreenToVideo Screen Recorder and Editor Tool Lifetime Deal
Quick Overview
Capture an application window, chosen area, or entire screen with just 1 click.
Create amazing videos by adding texts, sounds, images, videos, and animations to your screen recording.
Export your project as MP4 video and embed it into an HTML player to present on any device.
Best for Students, teachers, Businesses, and for people interested in making professional videos.
ScreenToVideo Screen Recorder and Editor Tool Lifetime Deal is the perfect solution for anyone who wants to create high-quality videos for their business, website, or personal use. This powerful tool allows you to record your screen, edit your videos, and add professional-quality effects, making it a great option for content creators, marketers, and businesses.
Here are a few ways that ScreenToVideo can help you:
Professional-quality videos: ScreenToVideo allows you to create professional-quality videos that are sure to impress your audience. With its advanced editing features and professional effects, you can create videos that stand out from the competition and help you increase your sales.
Easy to use: ScreenToVideo is incredibly easy to use, even if you have no prior video editing experience. Its intuitive interface and simple drag-and-drop functionality make it easy to create high-quality videos in minutes.
Customization: ScreenToVideo offers a range of customization options, allowing you to tailor your videos to match your brand and target audience. You can add your logo, choose your colors, and add your own voiceover or music, ensuring that your videos are a perfect match for your brand.
Cost-effective: With a lifetime subscription to ScreenToVideo, you won't have to worry about recurring costs or subscription fees. This makes it a cost-effective solution for your video creation needs, allowing you to focus on growing your business.
By investing in ScreenToVideo Screen Recorder and Editor Tool Lifetime Deal, you'll have access to all these features and more. Plus, with a lifetime subscription, you can create high-quality videos for your business or personal use for as long as you need it. So why wait? Try ScreenToVideo today and start creating professional-quality videos that help you increase your sales!
ScreenToVideo Lifetime Deal
In a hurry? Quickly record your content and share it in minutes.
Add annotations, transitions, effects, and many more in the integrated editor. ScreenToVideo is the complete toolbox for amateurs and professionals alike.
Meet ScreenToVideo Lifetime Deal
The most customizable Screen Recorder and Video Editor, designed to create impressive presentations from scratch.
With a powerful yet easy-to-use screen recorder and video editor you can Record and edit your videos. The intuitive interface comes with some amazing tools to create interactive presentations in a matter of minutes.
Use our built-in screen recorder to capture a window, a chosen area, or your entire screen by adding a personal touch to record your voice, system sounds, and webcam with your favorite virtual backgrounds. Also, turn your screen into a whiteboard by drawing using flexible sketching tools and record animated GIFs or MP4 in seconds.
Dashboard Overview
PROFESSIONAL SCREEN RECORDER
Record your screen with just one click
Record webcam to add a personal touch to your video
Add voice-over narration at capture time
Capture any sound played by your computer
Use our Timer to be prepared for a great start
EASY-TO-USE VIDEO EDITOR
Crop, trim, and split the screen recording
Add professional transitions for the entire video or just for an object
Zoom area to focus a viewer's attention
Add customizable effects to your videos, texts, images, and shapes
Bring objects to life with animations
Text-to-Speech Powered by Google Cloud Text-to-Speech or Microsoft SAPI
Preview all your changes before exporting the video in your favorite format
Export the video to .mp4, .wmv, or .gif file format
PRODUCT FEATURES
Start Recording With Just One Click
Edit A Video With Powerful Tools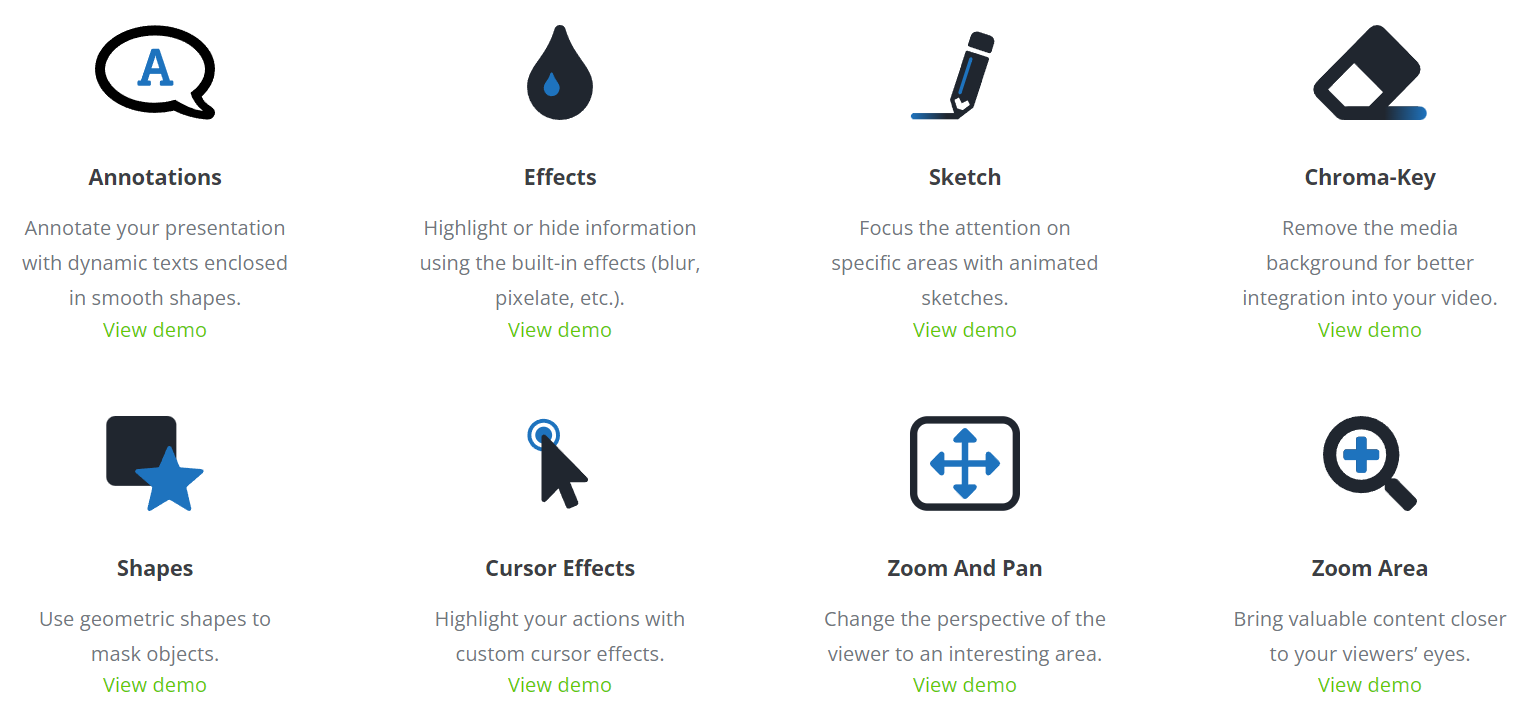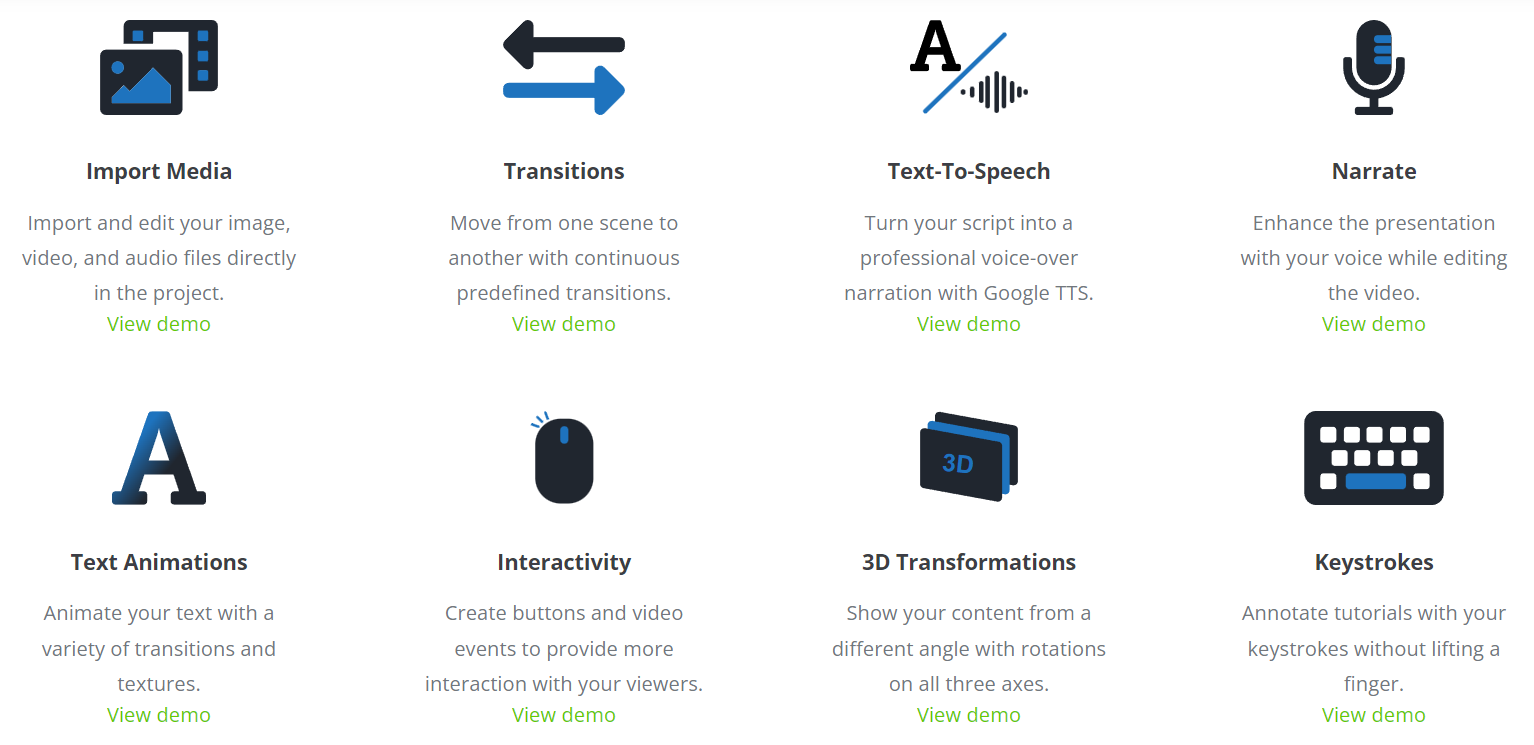 Publish And Share

Easy To Use
Key Benefits:
Record your Screen: With ScreenToVideo, you can capture an application window, a chosen area, or your entire screen with just one click.
Publish and Share: Export your project as an MP4 video and embed it into an HTML player so that it can be presented on any device.
Built-in Editor: Create amazing videos by adding texts, shapes, zoom effects, sounds, images, videos, and animations to your screen recording.
Easy to Use: ScreenToVideo has an intuitive interface and just the right tools to create a presentation in a matter of minutes!
For inspirational videos: Click on "Short Tutorials" to find out how to use ScreenToVideo built-in components and create your video in a matter of minutes.
Plan Details:
Full-featured recorder and editor
Install on multiple devices
In-app and website support
Windows compatibility
Road Map:
Object styles
Third-party integrations, e.g. Unsplash, Pexels
Virtual Studio Technology integration
State-of-the-art capture method for high-frequency videos and games
System requirements:
Operating System: Microsoft Windows 11 / 10 / 8 / 7 (Required: 64 Bit versions only)
Processor (CPU): Intel Core™ i-series or AMD Phenom® II and above
Screen Resolution: 1280 x 720, 32-bit color or above
Hard Disk Space: 50 MB for product installation
Memory: Minimum 2 GB RAM
Deal Terms:
Length of access: Lifetime.
Redemption Deadline of coupon code: 60 Days from purchase.
Offline Tool.
Lifetime updates and support.
Click Here to View The ScreenToVideo Screen Recorder and Editor Tool Lifetime Deal For Yourself
You may also like