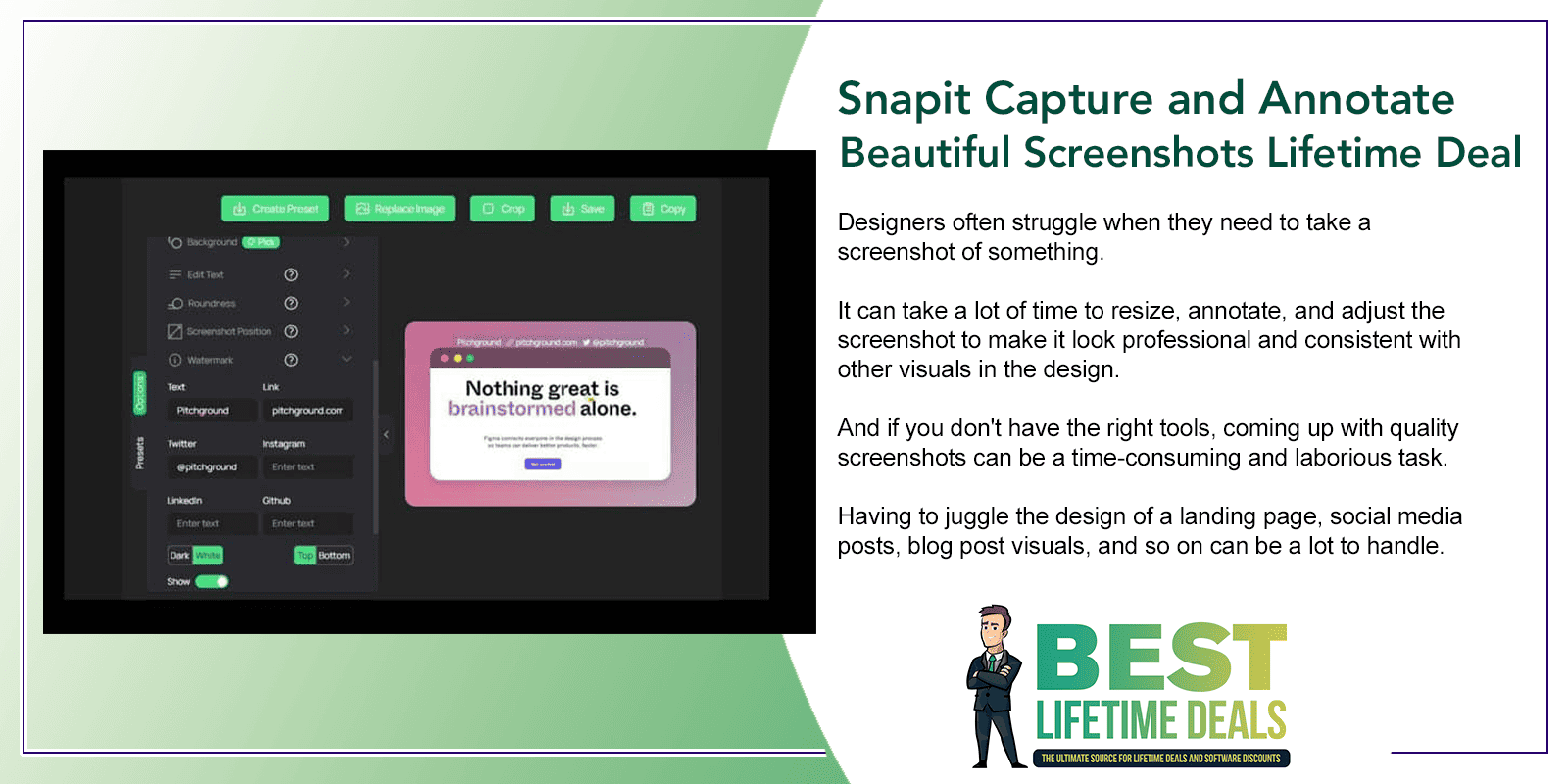 Choose Your Desired Option(s)
Snapit Capture and Annotate Beautiful Screenshots Lifetime Deal
Designers Lose Up To 16 Hours Every Week Fixing And Enhancing Screenshots.
Say Goodbye to Bad Looking Screenshots.
Introducing The Snapit Capture and Annotate Beautiful Screenshots Lifetime Deal
Designers often struggle when they need to take a screenshot of something.
It can take a lot of time to resize, annotate, and adjust the screenshot to make it look professional and consistent with other visuals in the design.
And if you don't have the right tools, coming up with quality screenshots can be a time-consuming and laborious task.
Having to juggle the design of a landing page, social media posts, blog post visuals, and so on can be a lot to handle.
PitchGround Presents; Snapit
Snapit helps you take beautiful screenshots with ease. In just a few clicks, you can Capture, Annotate & Create Beautiful Screenshots fast.
You can add browser frames, apply beautiful backgrounds, select device templates, capture screenshots directly from a URL, add custom texts and watermarks, and make mockups. Plus,
Snapit is great for designing landing page assets, Tweet images, Instagram posts, Betalist images, and App store images, to name a few.
With Snapit, you can create amazing screenshots in minutes and focus more on creating and innovating instead of wasting time adjusting and enhancing the screenshots.
TL;DR:
Snapit helps you capture amazing screenshots quickly, and you can add custom backgrounds, texts, and watermarks to design beautiful landing pages, Tweets, Instagrams, App store images, and more. Perfect for creating high-quality online content.
Similar to: Xnapper, Pika.Style, Snappify, and Brandbird.
Intuitive UI and UX, easy-to-use platform, very stable.
Best for Solopreneurs, Freelancers, SMEs, and Agencies
Critical Stats:
90% of online marketers and creatives use screenshots in their design workflow. (Source: depicthougt.com)
70% of all visual content shared is screenshots. (Source: kerwinmackenzie.com)
According to research, 38% of people who took screenshots and annotated them experienced a 15% increase in productivity. (Source: pickhub.com)
60% of marketers say creating visuals for content is one of the hardest tasks for them. (Source: semrush.com)
Features:
Adding custom backgrounds:
Users can choose various custom background colors and effects to enhance their screenshots. This includes noise and tilt effects.
Code Snippet Mockups:
Developers can professionally share their code snippets by selecting their code language and custom theme—for instance, GitHub Dark or Android Studio.
Create presets:
Users can easily save their presets to create multiple images with the same set of colors, effects, and settings. For example, rapidly re-create screenshots by loading previously saved presets.
Adding device templates:
Users can showcase their products by choosing a custom device template. This can be a mobile device (various iPhone and Android models) or a desktop (various Apple and Microsoft models).
Add browser frames:
Our quick and easy-to-use tool lets you add Windows, Safari, and more browser frames to any screenshot you take, making it easy to create beautiful screenshots.
Social media ready sizes:
With Snapit, you'll be able to export your image in various sizes that are perfect for your social media content, be it your Twitter posts or Instagram stories.
User Graphic Content
Capture screenshot from URL:
Capture screenshots from any website URL and load them onto the canvas blazingly fast.
Add custom text and watermark:
You can add a custom title, subtitle text, and/or watermark to your content with a few clicks. You can use this space to promote your website, Twitter handle, or simply text.
Instant customization and exports:
Snapit lets you automatically apply customizations you've made in the past, which saves you time. In addition, Snapit gives you shortcuts to export images instantly.
User Graphic Content
Some Interesting Use Cases:
A founder that wants to share revenue or analytics of their (saas) company. You often see solopreneurs and indie hackers share screenshots of MRR (monthly recurring revenue) or web traffic stats on Twitter.
A (web/app) designer who wants to present their mobile app or website. They want to use a mobile- or desktop device template to showcase their product.
Content creators that produce content for websites, blogs, or email newsletters can quickly create screenshots with custom watermarks for branding purposes.
Social media influencers who engage with their audiences daily need to be able to create good-looking screenshots without hassle.
Why are businesses choosing Snapit over the rest:
Fully web-based.
A lot of templates to choose from.
Adding custom watermarks and branding.
Being able to create open graph images.
Simple setup and ease of use.
All features are available in the Pro plan.
Available on a lifetime deal for a limited period.
The best part? You will pay just once and can use Snapit for a lifetime; grab your lifetime deal today.
Click Here to View The Snapit Capture and Annotate Beautiful Screenshots Lifetime Deal For Yourself
You may also like