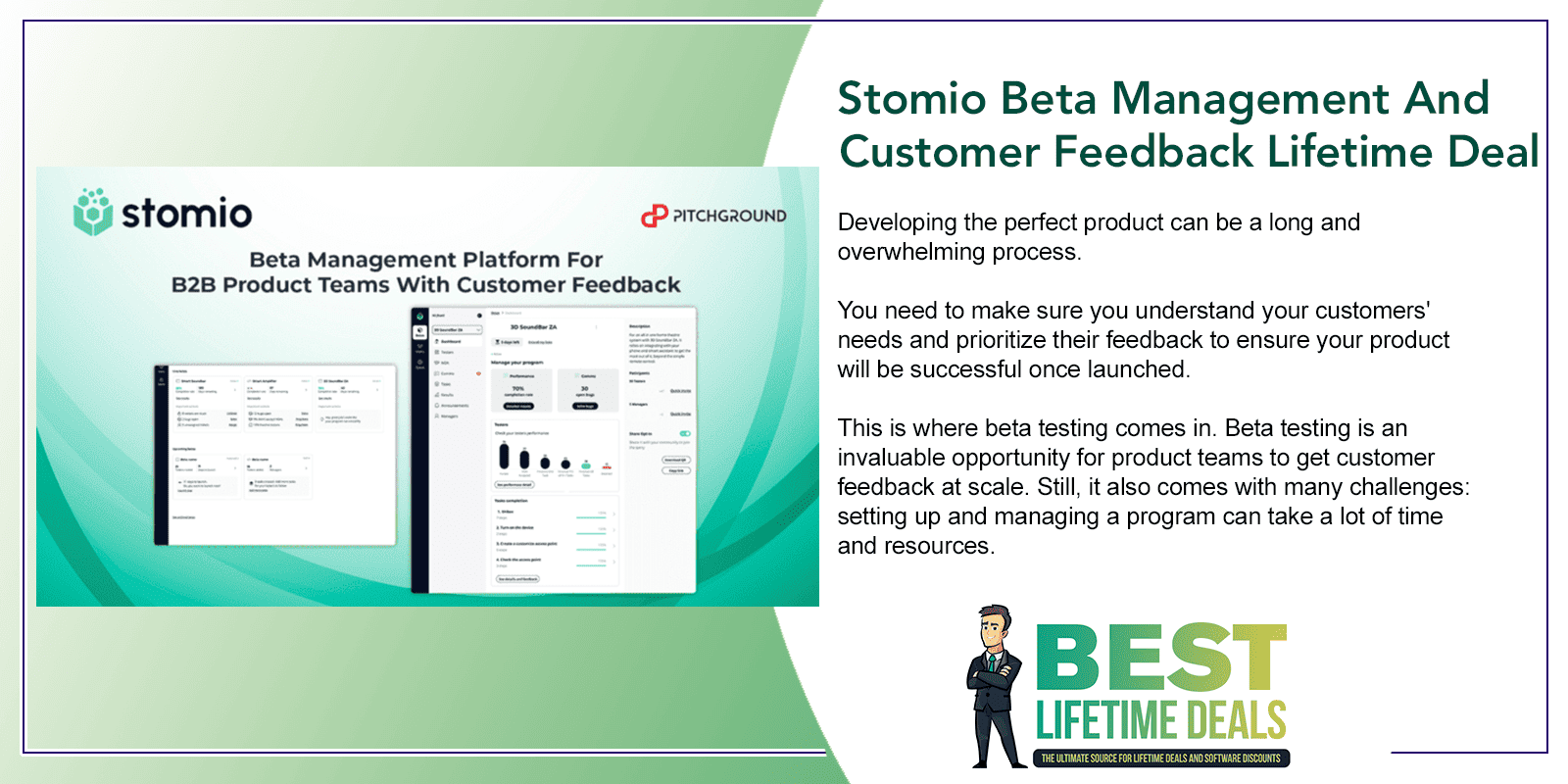 Choose Your Desired Option(s)
Stomio Beta Management And Customer Feedback Lifetime Deal
Maximise customer feedback and accelerate product development.
Turn Your Beta Testing into a Successful Product Launch!
Introducing The Stomio Beta Management And Customer Feedback Lifetime Deal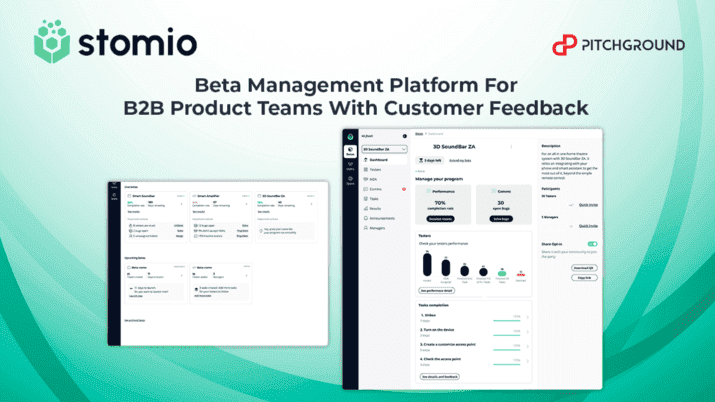 Developing the perfect product can be a long and overwhelming process.
You need to make sure you understand your customers' needs and prioritize their feedback to ensure your product will be successful once launched.
This is where beta testing comes in. Beta testing is an invaluable opportunity for product teams to get customer feedback at scale. Still, it also comes with many challenges: setting up and managing a program can take a lot of time and resources.
PitchGround Presents; Stomio
The ultimate platform for B2B product teams to manage their beta testing and extract actionable customer feedback.
With Stomio, you'll spend less time setting up and managing your beta programs and more time engaging with customers.
Stomio is the best way to empower your product team to capture customer feedback during your development phase at scale and create strong feedback loops with your users, so your product launch can be successful.
TL;DR:
Stomio is a SaaS platform that helps B2B product teams manage their beta testing phase more efficiently and capture customer feedback at scale. It enables you to create strong feedback loops and successful product launches.
Similar to: Centercode, Sprig, UserTesting
Intuitive UI and UX, easy-to-use platform, very stable.
Best for Solopreneurs, SMEs, CXOs, and Agencies looking for an efficient beta testing & feedback platform for their B2B product teams.
Critical Stats:
80% of product teams have found beta testing beneficial in accelerating time-to-market. (Source: mindtheproduct.com)
91% of product teams report increased collaboration between their departments using beta testing. (Source: startups.com)
57% of B2B product teams struggle with beta testing and gathering meaningful customer feedback.
78% of product teams said that having a better way to collect user feedback from other sources was important. (Source: forbes.com)
87% of product teams said leveraging feedback from in-app sources was vital for their development. (Source: productcoalition.com)
Features:
Flow Builder:
No-code flow builder that combines instructions and feedback questions. With flow builder, product teams can design a unique flow for their customers to follow and probe for feedback when they are experiencing their product. This eliminates all biases in the system and unlocks the powerful voice of the customer.
Build a flow for your customers to follow. Combine instructions and in-moment feedback using a microinstructions framework.
Comms:
Comms is a fully featured ticketing system that enables deeper interaction between the product team and their customers. With Comms, product teams can perform any of the below modes of communication with their customers.
One-on-One: Customers can open a ticket and report an issue with the product team and vice versa.
One-to-Many: A product manager can send an announcement to all or a subset of their testers.
Many-to-Many: If the product manager deems a ticket important for all testers to know about, they have the power to make it public so other testers can comment and/or vote
Engage with your customers using any mode of communication needed. Track their feedback in its ticketing system or push it to your bug-tracking system of choice.
Analysis:
The analysis engine surfaces raw customer feedback as they go through their flow. It also captures important data about their behavior:
Funnel analysis to see which testers are actually engaging vs. not.
Flow analysis to see where testers are getting stuck and how they are progressing through their tasks.
Tester performance analysis to identify good testers vs. not great ones for future beta programs.
Data is captured and reported instantly with Stomio. You don't need to send endless waves of survey links. Instead, let its analysis engine surface trends and insights that are impossible to find elsewhere.
Security Compliant:
Stomio's databases are built with multi-layer security, including encrypted passwords and strict firewall settings. Integrations are authorized securely with OAuth2, and user credentials are not stored for those services and more.
Some Interesting Use Cases:
B2B product teams can use Stomio to capture the voice of customers during product development and before the product launch.
B2B product teams can use Stomio to test concepts with their customers before building a product.
B2B product teams can use Stomio to test a certain flow of collection of products to unlock some insights from their customer base.
Why are businesses choosing Stomio over the rest:
No-code flow builder that combines instructions and feedback questions.
Fully-featured communications product that empowers the product team to engage with their customers effectively.
Analysis engine that captures raw feedback from the customers and surfaces behavioral trends.
User management table that is customizable to the product team's needs.
Integrations with existing tools for easier information flow (Zoom and Jira).
Simple setup and ease of use.
Available on a lifetime deal for a limited period.
Collect customer feedback quickly and accurately, create strong feedback loops with users in your product, and launch them successfully.
The best part? You will pay just once and can use Stomio for a lifetime; grab your lifetime deal today.
Click Here to View The Stomio Beta Management And Customer Feedback Lifetime Deal For Yourself
You may also like