Choose Your Desired Option(s)
Video App Suite Ready Made Turnkey Reseller SAAS Business Lifetime Deal
Activate Your Ready-Made Video Software Business Without Any Budget, Marketing Skills or Technical Experience!
Breakthrough: Sell EIGHT High Quality Software Apps with Professionally Designed Sales Pages and Start Making Sales!
Video App Suite is a unique video technology that includes 8 cutting-edge video apps inside one dashboard! Unlike all the bundle deals online, with video app suite you can resell the 8 high quality apps as your own and keep 100% of the sales! All the marketing materials are done-for-you, including the sales pages, sales videos and more!
Want to go BEYOND just creating and selling awesome videos for clients?
Want to stop cold calling, chasing down clients for payments and all the hassles that come with running an agency?
Frustrated with the time-consuming process of delivering services / videos to clients?
If your answer is YES to any of the above…
Then you'll DEFINITELY want to take advantage of our TURNKEY SaaS business Package!
Start selling EIGHT high quality video apps that virtually sell themselves and are maintained and hosted by our team!
All you need to do is add your own payment buttons to the sales pages we provide and start selling the top-quality apps by TOMORROW – and YOU keep 100% of the profits!
The best part is… you can even create UNLIMITED videos for yourself and your clients using the 8 apps included and sell them for top dollar on websites like Fiverr, Upwork, or to clients directly for sweet monthly profits!
Let's face it, the best way to become an "influencer" or market leader in your
niche is to have your own products!
There's no faster way to build your brand, and to generate real sales and profits that unlike affiliate commissions are 100% YOURS!
You get everything you need!
Including a professionally-designed website, professionally-written sales pages, sales videos, marketing materials, and much more!
We also provide detailed, step-by-step training and real-world case studies, so nothing is left to chance.
Even if you don't have a list or any traffic yet, we'll show you exactly what to do to generate sales and start profiting!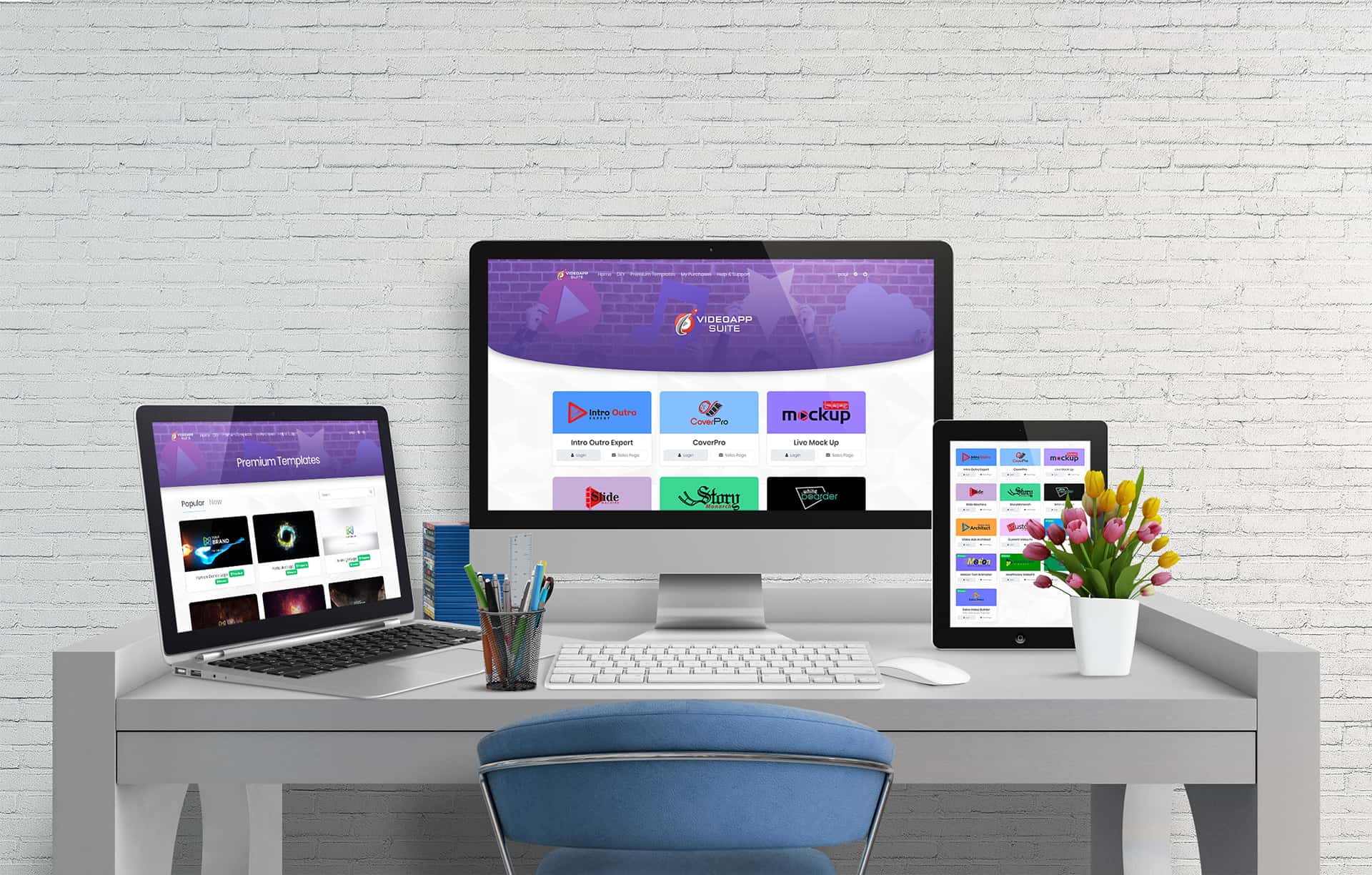 Here is just a glimpse of what's included inside Video App Suite…
8 World Class Video Apps
8 Done-for-You Sales Pages
8 Mesmerizing Sales Videos
Unlimited Hosting and Maintenance of The Apps
Unlimited Video Renders
Commercial License to sell videos you create
Business Box to resell the apps and keep 100% of the revenues!
Click Here to View The Video App Suite Ready Made Turnkey Reseller SAAS Business Lifetime Deal For Yourself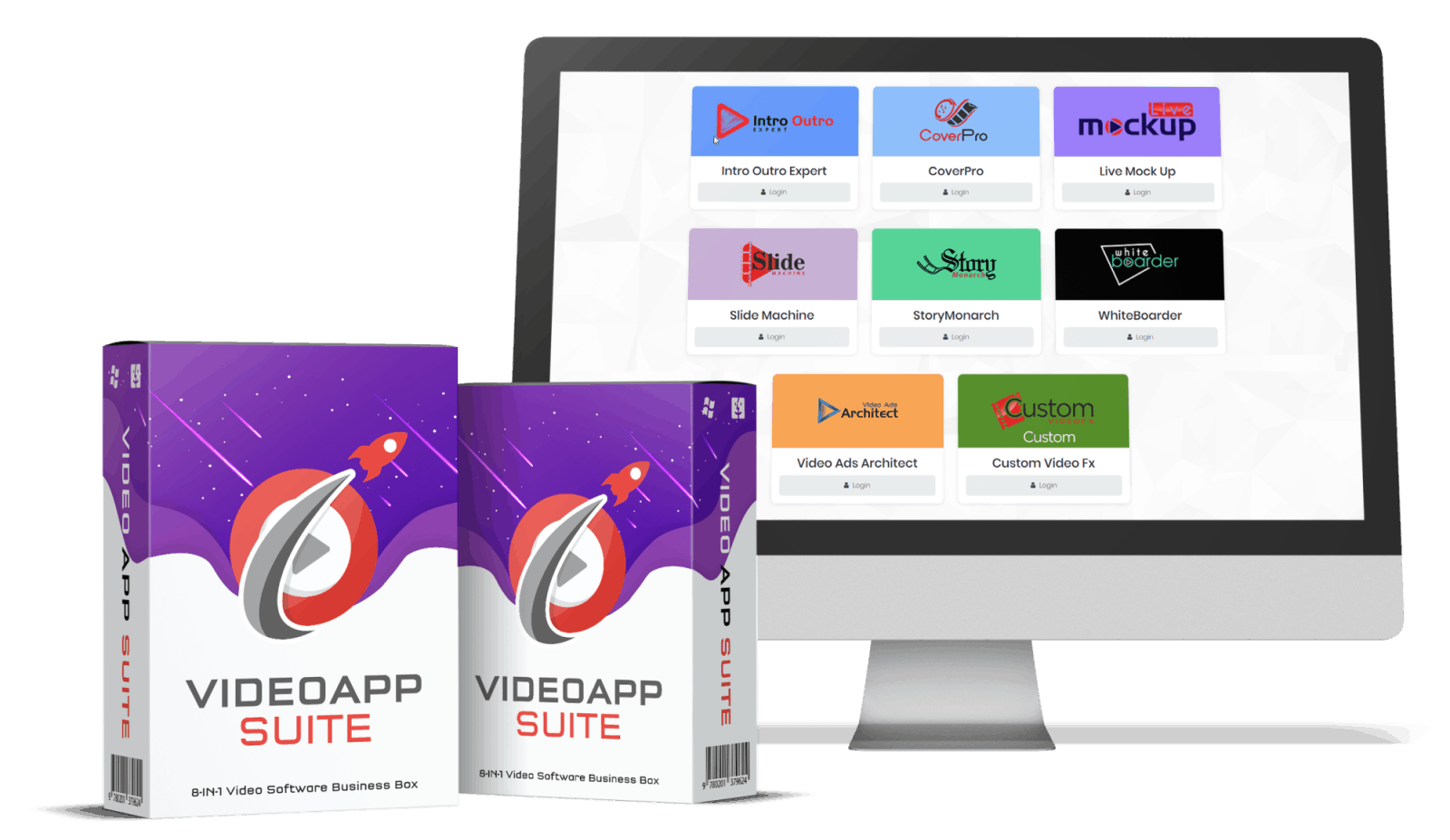 Video App Suite features EIGHT high quality video apps for the price of ONE. These are brand new powerful video apps and the funnel is designed by Paul Ponna and team, the same team behind multiple million dollar video launches!
Video App Suite packs-in unprecedented value and is unlike any other software bundle deal offered before.
Customers get access to two options on the sales page…
Commercial License: Customers will get access to 8 video apps to create HIGH QUALITY videos across multiple formats to sell to clients for TOP DOLLAR. Customers will get all the video tools they need to create any type of video for any type of placement without spending hundreds/thousands buying all video tools separately!
Business in a Box: Customers get access to 8 high quality software tools with professional sales pages to resell the apps as their own. Anyone can now start their very own software business without hiring any programmers, start-up or maintenance costs, or marketing skills!
The best part? The jaw dropping low price will knock your socks off and ensure you get blockbuster conversions on launch day. This is an irresistible offer that newbies and seasoned marketers will be jumping to get their hands on!
What Video App Suite Can Do For You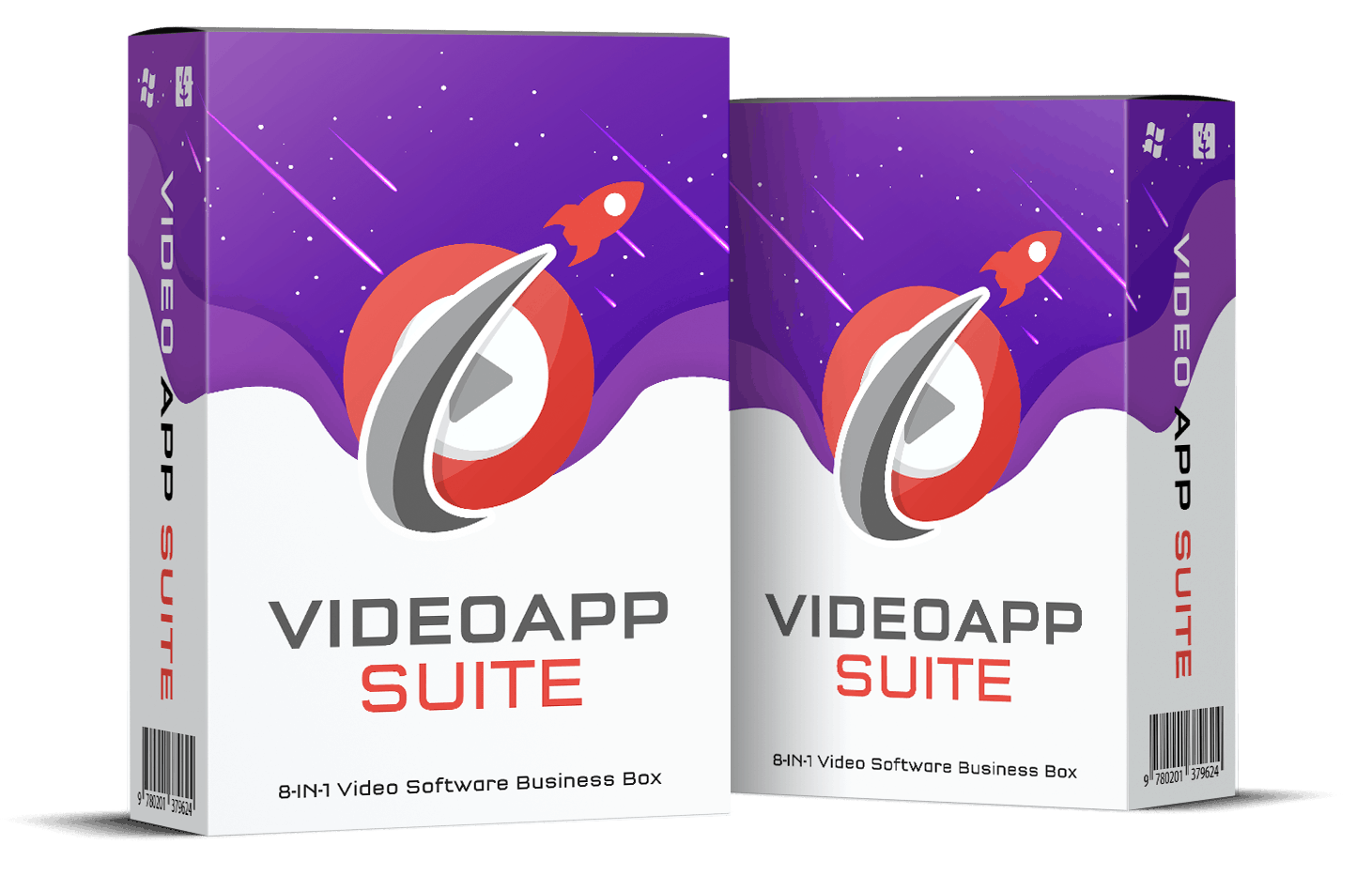 All of the 8 cloud based video apps included inside Video App Suite come loaded with incredible ready-made video templates that you can customize in minutes and create stunning videos.
You can sell the videos they create to clients for $300 to $500 each OR they can resell the apps as their own and start their very own software business using the "Business Box" license!
Software #1 – Intro Outro Expert App – Create professional and eye-catching intros and outro videos in minutes using  ready-made video templates. Intros and outros for video are proven to grab attention, get more engagement and clicks all while making you look more professional. They also give the video a high-end feel!
Software #2 – Cover Pro App – Create Facebook VIDEO covers (not images). Video covers are proven to drive engagement and sales via FaceBook and make you look like an authority!
Software #3 – Live Mockup App – Add your logos and images to live moving scenes. These videos grab attention like no other video format to deliver incredible results. Perfect for social media to draw attention to your brand!
Software #4 – SlideMachine App – Create videos with slides, customize elements, add your own text and images to create sparkling new videos!
Software #5 – StoryMonarch App – Create Instagram and Facebook story  videos effortlessly. This is the hottest video format right now on social media!
Software #6 – Whiteboarder App – Create "video commercial" style   whiteboard videos using done-for-you templates in minutes.
Software #7 – Video Ads Architect  App – Create square video ads that are popular on social platforms. These videos provide better viewing experience for mobile users, thus driving more sales and clicks!
Software #8 – Custom Video FX App – Upload any existing video into the app and add text effects, lower thirds and animations to create custom animated videos to fulfill client demands.  You can also convert them into landscape, square, portrait/vertical videos for social media. This is for users who want to spice up their existing videos and turn boring videos into amazing high quality videos!
Click Here to View The Video App Suite Ready Made Turnkey Reseller SAAS Business Lifetime Deal For Yourself
Video App Suite Frequently Asked Questions
Is there a money-back guarantee? Absolutely! You get a full 30-day no questions asked money back guarantee. If you are not satisfied contact us for a hassle-free refund.
How many apps are included in the suite? You get a total of 8 fully-licensed and fully-functional cloud apps with either Video App Suite license. If you purchase the Turnkey Business Package, you'll also get marketing materials, website, sales videos, and more to help you resell the apps as your own and keep 100% of the revenues!
Does it work on both Windows / Mac? Video App Suite dashboard is 100% cloud based, meaning it will work on any operating system. All you need is an internet connection to access all the apps included inside ONE dashboard. Nothing to install, nothing to update.
Is there step-by-step training and tech support available? Absolutely! They also provide full step-by-step training that leaves nothing to chance, even if you're a complete newbie without a list or any traffic. If you opt for the Turnkey Business Package, you also get comprehensive training so you can start reselling your apps fast!
Will the Video App Suite be updated in the future? Definitely! They're committed to ensuring that all of the included apps are continuously updated by their team of developers and programmers. You get all future updates for free, with no additional costs!
Can I upload my own images, videos, and audio into Video App Suite? Absolutely, you can upload your own images, music, voice over into all the apps and customize your videos with your own materials. Using their Custom Video FX app you also upload your old videos and spice them up, create long form videos of any length. All your imported images are AUTOMATICALLY resized to match the videos, so you don't need any external programs!
What's so Unique about this? Unlike all the other software bundle deals online, you can now also RESELL these world-class video apps as your own using the Turnkey Business package. They provide the sales pages, sales videos and the training you need to start making sales quickly!
Do the Video App Suite included come with Commercial/Agency License? YES, all the apps come with FULL commercial license so you can sell the videos you create for $300 to $500 each to your clients and earn top dollar.
Don't miss out on your chance to get lifetime access to Video App Suite Ready Made Turnkey Reseller SAAS Business Lifetime Deal. This Video App Suite Ready Made Turnkey Reseller SAAS Business lifetime deal is available for a limited time only and will most likely be available in the future at a monthly cost.
Click Here to View The Video App Suite Ready Made Turnkey Reseller SAAS Business Lifetime Deal For Yourself
You may also like