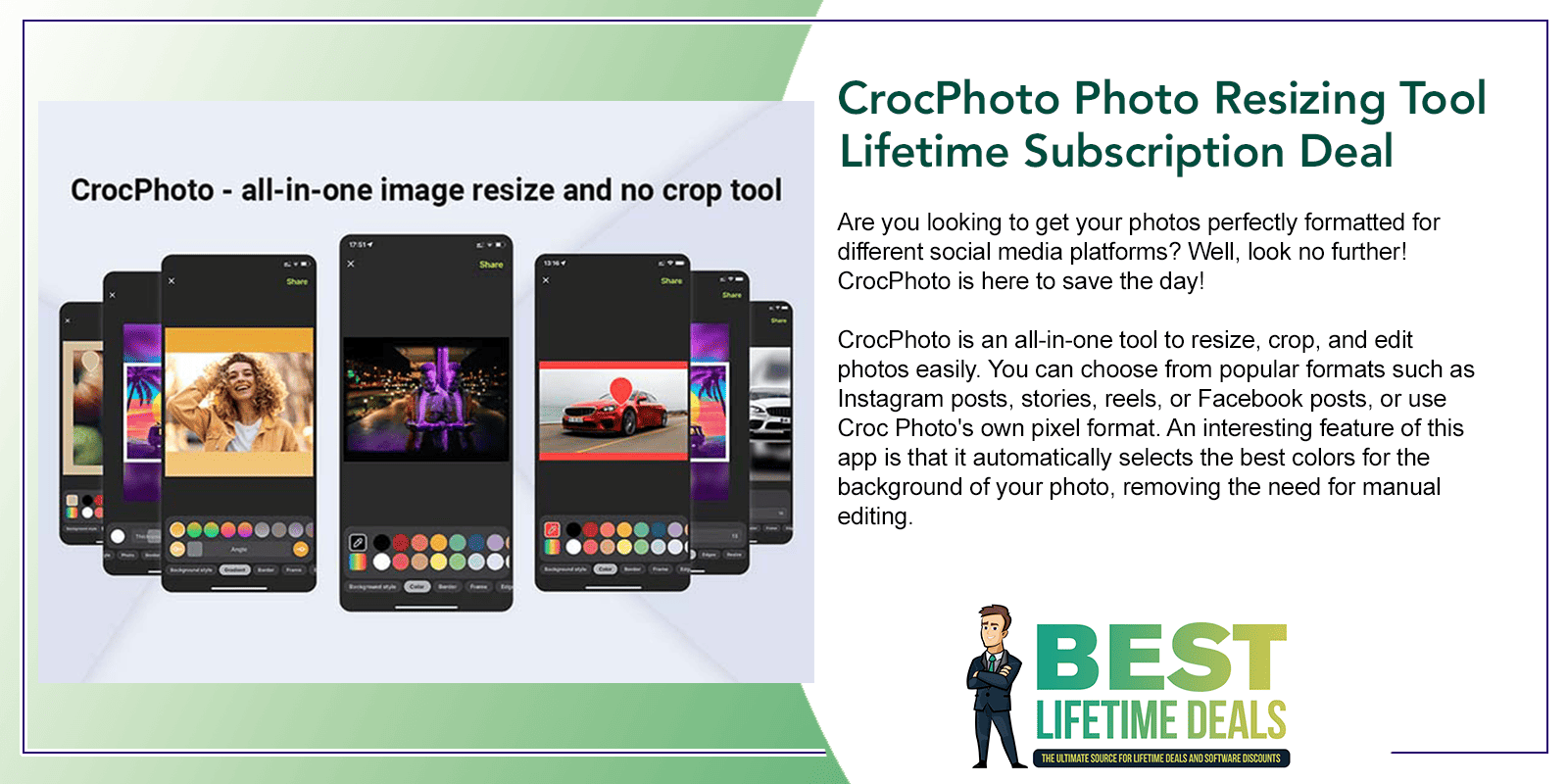 Choose Your Desired Option(s)
CrocPhoto Photo Resizing Tool Lifetime Subscription Deal
Beautify Your Photos with This All-in-One Photo Editing Tool — Crop, Resize, Build Templates & More!
Introducing The CrocPhoto Photo Resizing Tool Lifetime Subscription Deal
Description For The CrocPhoto Photo Resizing Tool Lifetime Subscription Deal
CrocPhoto is a powerful photo resizing tool that allows you to resize your images quickly and easily. With the CrocPhoto lifetime subscription deal, you can access this amazing tool for life, without having to worry about recurring fees or monthly payments.
CrocPhoto is an essential tool for photographers, graphic designers, web developers, and anyone who works with images regularly. The tool is easy to use and can resize your images in just a few clicks. You can resize multiple images at once, and the tool supports all popular image formats, including JPEG, PNG, GIF, BMP, and more.
CrocPhoto also offers a range of other features, including image cropping, rotation, and color correction. You can also add watermarks and borders to your images, making it easy to create professional-looking photos for your website, blog, or social media accounts.
With the CrocPhoto lifetime subscription deal, you can save hundreds of dollars compared to the cost of monthly or yearly subscriptions. You'll also have peace of mind knowing that you have access to this essential tool for as long as you need it, without having to worry about any additional costs. So why wait? Sign up for the CrocPhoto lifetime subscription deal today and start resizing your images like a pro!
Are you looking to get your photos perfectly formatted for different social media platforms? Well, look no further! CrocPhoto is here to save the day!
CrocPhoto is an all-in-one tool to resize, crop, and edit photos easily. You can choose from popular formats such as Instagram posts, stories, reels, or Facebook posts, or use Croc Photo's own pixel format. An interesting feature of this app is that it automatically selects the best colors for the background of your photo, removing the need for manual editing.
4.8/5 average rating: ★ ★ ★ ★ ★★
Pre-built formats. Instantly select from 30+ pre-defined popular sizes & formats
Instagram formats: Square, Story, Reel, Portrait Post, Landscape Post
Facebook formats: simple post, cover photo
Twitter post 7:8, 7:4, 2:1
Premade 30+ sizes
Customized user-defined size with extra-effects added
Custom size. Resize your images & photos to any size that fits your needs
Background style. Add the perfect background style from the 5 ready-made options
Single color. Select the color that would fill the rest of the image
Fade effect. Add the fade effect for the image you want to edit
Gradient. Select the gradient single or multi-color style
Pattern effect. Add one from the 15+ ready patterns to the image or use your own
Background blur. Blur the background of the photo you're editing
Batch image editor. Edit few images for the needed style & size with a single tap
Template builder. Build & save the exact format and style you need for future editing
Instant share to social media. Share your ready for likes perfect photo to all popular platforms
How It Works
Select the original photo you'd like to resize or edit
Choose the perfect size for your image & background style
Share ready & edited photos to your social media directly from the app or save them to the gallery
Reviews
4.7/5 rating on Google Play: ★ ★ ★ ★ ★★
4.3/5 rating on Apple App Store: ★ ★ ★ ★ ★★
System Requirements
Android 4.0 or later
NOTE: This offer is strictly for Android ONLY.
Important Details
Length of access: lifetime
Redemption deadline: redeem your code within 30 days of purchase
Access options: mobile
Max number of device(s): 1
Size: 68MB
Version: 2.1.1
Updates included
Terms For The CrocPhoto Photo Resizing Tool Lifetime Deal
Click Here to View The CrocPhoto Photo Resizing Tool Lifetime Subscription Deal For Yourself
You may also like