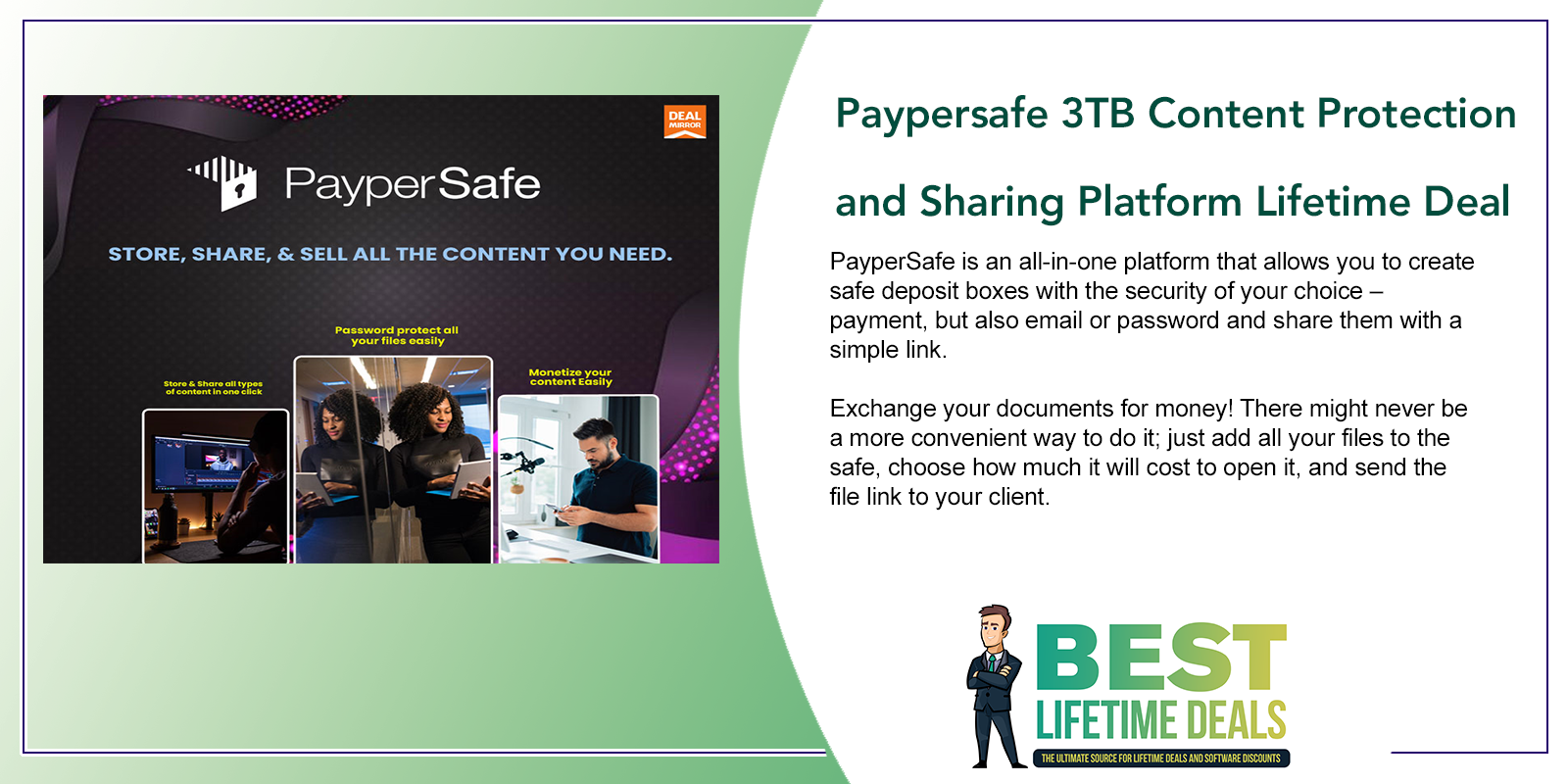 Choose Your Desired Option(s)

Paypersafe Content Protection and Sharing Platform Lifetime Deal

Quick Overview
Store & Share all types of content in one click.
Generate more lead for your business and Monetize your content Easily.
Password protect all your content and files easily.
Best for Influencers, freelancers, companies, and individuals.
Paypersafe Lifetime Deal
Today, the amount of digital content circulating in the market is constantly increasing. As a result, many web entrepreneurs find themselves with a ton of content at their disposal, but find it difficult to exploit its potential.
In addition, the tools available on the market are increasingly complex to manipulate and do not allow for basic skills.
So, to protect, share and sell your content in order to develop your business.
Meet Paypersafe Lifetime Deal
PayperSafe is an all-in-one platform that allows you to create safe deposit boxes with the security of your choice – payment, but also email or password and share them with a simple link.
Exchange your documents for money! There might never be a more convenient way to do it; just add all your files to the safe, choose how much it will cost to open it, and send the file link to your client.
Webinar with Paypersafe Team
Intro Video
Dashboard Video
Product Overview
Store and Share all types of content in one click
Create as many smart digital safes as you want to store all your personal or professional documents. Keep your contents close to you, and share them with a simple custom link.
Password protect all your content & Files 
Protect all your documents with a secure password by creating your smart digital safes. The link will allow you to send them at any time.
Generate more leads for your business
Create your own email digital safe, and share it with your customers. MailChimp will allow you to automate your email sending.
Monetize all Your Contents Easily
Sell your e-books, training courses, logo design, and other content by creating your digital safe! Your recipient pays and downloads your content at the same time!
Plan Details:
3TB Disk Space
Unlimited safes
Unlimited files
Unlimited teams
Custom logo
Custom name domain
No ads
Mailchimp integration
Only 0.5% commissions without a PayPal fee
Custom safe
On/Off sharing
On/Off Download
Facial age recognition
Password Lock
Payment lock
Email request lock
Facebook share lock (soon)
Facebook like lock (soon)
Self-destruction timer (soon)
Deal Terms:
Length of access: Lifetime.
Redemption Deadline of coupon code: 60 Days from purchase.
All Future Plan updates.
Paypersafe is a powerful and secure platform that offers content protection and sharing solutions for individuals and businesses alike. It is the perfect solution for anyone who wants to share content online but also wants to protect it from unauthorized access or distribution.
With Paypersafe, you can securely store and share files with others, while maintaining full control over who can access them. The platform offers robust security features such as encryption, password protection, and digital rights management, which ensures that your content is safe from unauthorized access.
Moreover, Paypersafe offers flexible sharing options that allow you to share files with individuals or groups, while also giving you the ability to set specific permissions and access levels for each user. This ensures that your content is shared only with those who have a legitimate need to access it.
Additionally, Paypersafe is a scalable platform that can grow with your needs. Whether you are an individual or a large business, Paypersafe has the tools and features you need to protect and share your content effectively.
Overall, Paypersafe is an excellent investment for anyone who needs to share content online and wants to ensure that it is protected from unauthorized access or distribution. With its powerful security features, flexible sharing options, and scalable platform, Paypersafe is the ultimate content protection and sharing solution.
Click Here to View The Paypersafe 3TB Content Protection and Sharing Platform Lifetime Deal For Yourself
You may also like