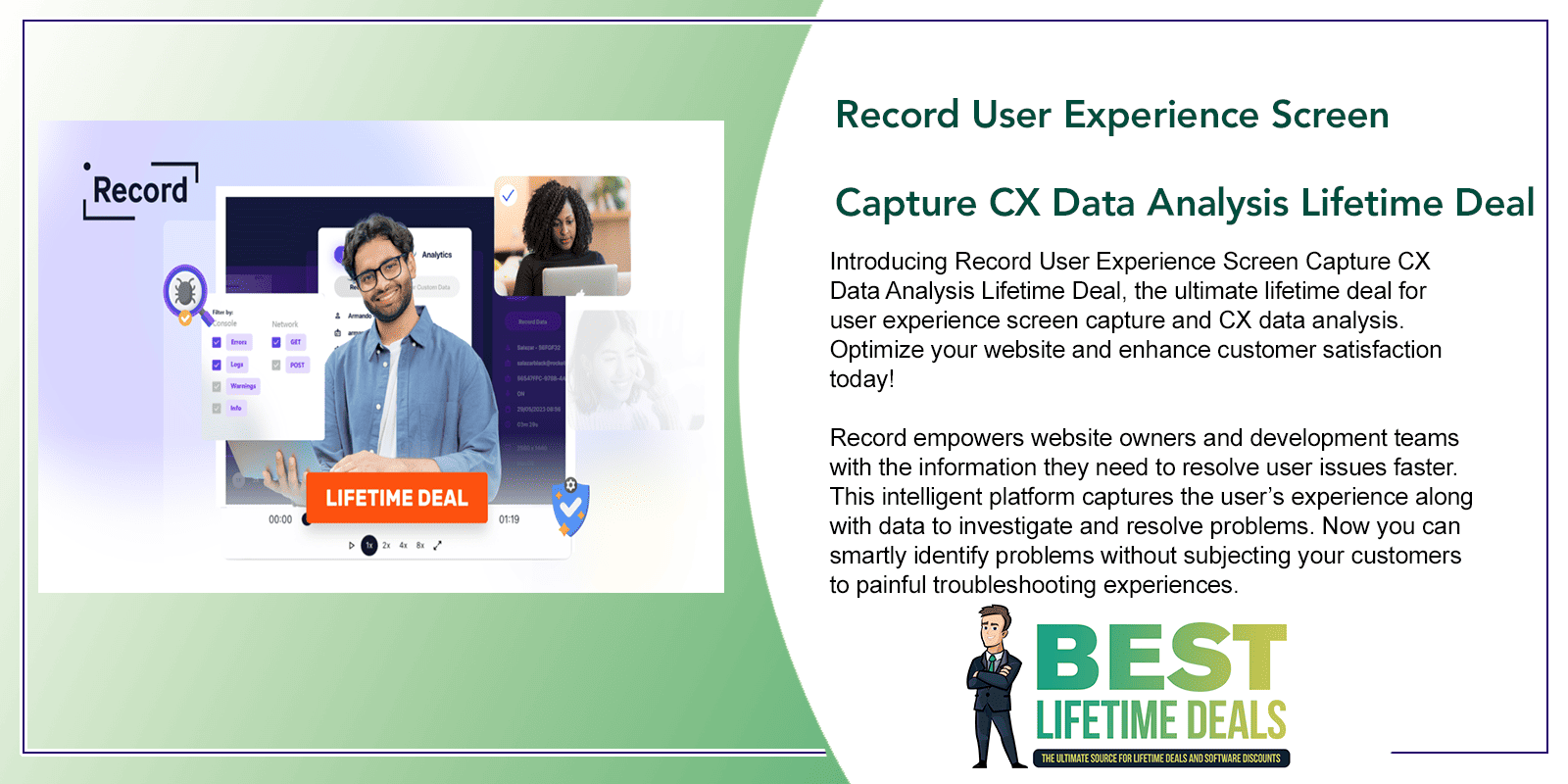 Choose Your Desired Option(s)
Introducing Record User Experience Screen Capture CX Data Analysis Lifetime Deal, the ultimate lifetime deal for user experience screen capture and CX data analysis. Optimize your website and enhance customer satisfaction today!
Introducing Record User Experience Screen Capture CX Data Analysis Lifetime Deal
The smarter way to record, investigate, and resolve user issues faster.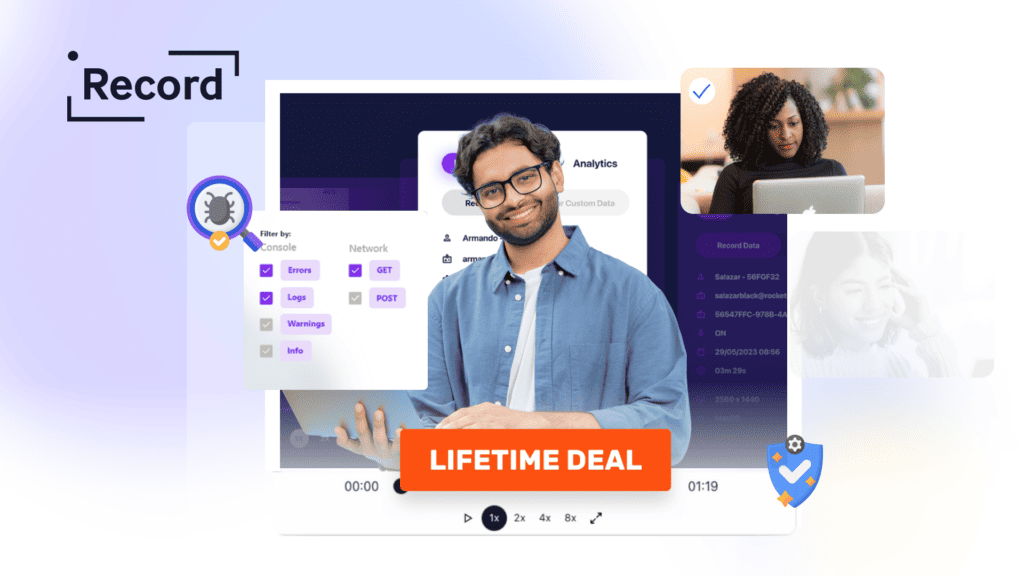 Record empowers website owners and development teams with the information they need to resolve user issues faster. This intelligent platform captures the user's experience along with data to investigate and resolve problems. Now you can smartly identify problems without subjecting your customers to painful troubleshooting experiences.
More than a simple screen capture, Record was built to bridge that gap between your customers and your development team. Stop relying on users to tell you things like:
The URLs they experienced the issues on
The order of events that took place when the problem occurred
Their device or browser information
Console issues
No matter how smart your customers might be, they will never be able to describe the problem like Record. Let's explore how Record turns your user's experience into actionable data.
Record User Experience Screen Capture CX Data Analysis Lifetime Deal Features
Capture Data with Clarity: Record understands the importance of data when resolving a user issue. By capturing the user's session, device information, and even details like user transcripts your team can now have a visual representation of the experience to quickly identify the problem.
Investigate Issues Faster: Record adds a valuable layer to the troubleshooting process by capturing back-end data your team needs to understand the full scope of the problem including details like console logs and network GET and POST requests.
Intelligent CX Data Analysis: Smartly tag and capture CX details to help your team make swift decisions. Record employs features like automatic issue tagging and transcript summaries. Providing your team with key information to make decisions faster.
Data Compliance: Your user's experience also extends to data compliance. Record allows you to capture data with compliance standards in mind including features like customized masking of elements and user authentication compliance.
Why Choose Record User Experience Screen Capture CX Data Analysis Lifetime Deal?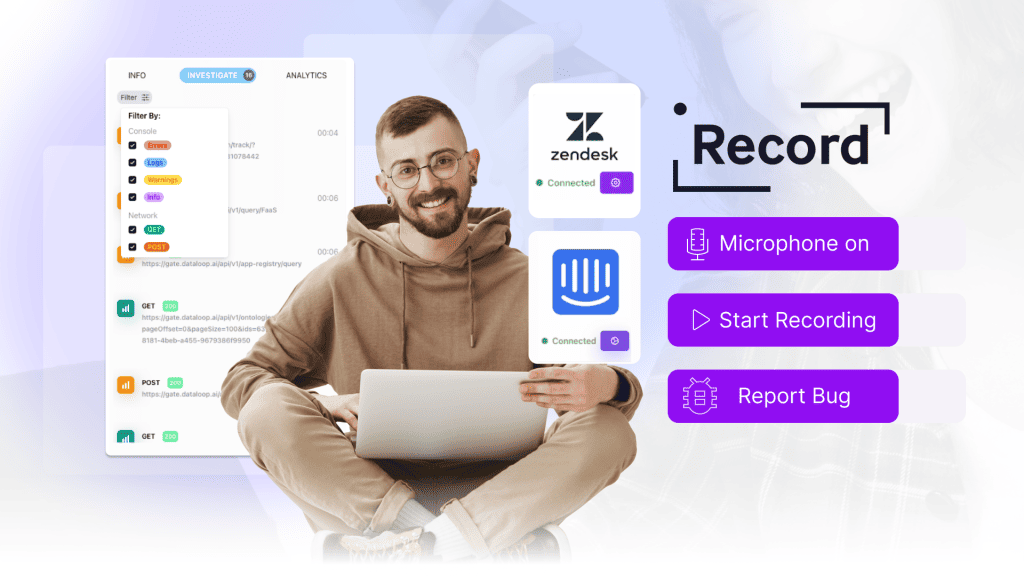 Screen recording software, heat maps, error tracking alerts, there's a million website tools to choose from. Why should you choose Record? The answer is simple but the problem it solves is huge.
To put it plainly… People choose Record to create a better customer experience.
If you rely on your website to generate revenue you need software that unravels your customers' usability issues FAST. Otherwise those users will disappear as quickly as you acquired them.
Here's how Record stands up against software giants!
Comprehensive interface to capture, investigate, and troubleshoot users issues.
Seamless integration with popular CX tools like Zendesk and Intercom
Capture details heat maps, chat bots, and other CX tools fail to capture (like console logs, network issues, error tracking, etc.
Increase your team's efficiency with AI features like automated issue tagging, sentiment analysis, and transcript summaries.
Record was built to truly solve user issues. Imagine a world where a customer reports the issue and your dev and support teams both have all the information they need up front.
You'll never have to ask a customer another silly question like:
What device were you using?
What was the exact URL you were on when this happened?
Or can you take a screenshot of the console log?
Record helps your teams resolve issues faster, increases your support and development team's productivity, all while making you look great in front of your customers.
Win. Win. Win!!!
Who Needs Record?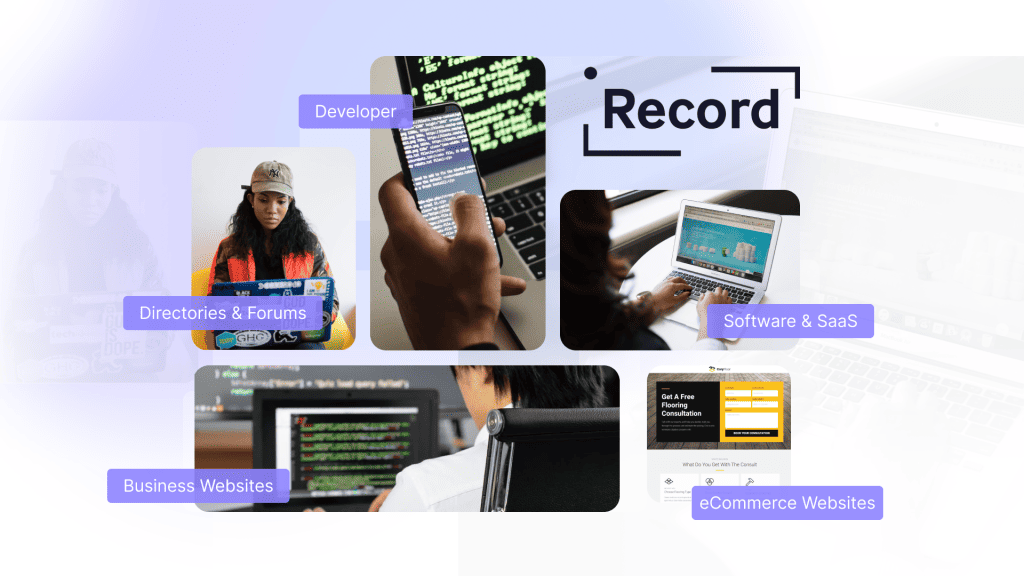 Any business providing technical support needs Record. Record works across all industries types and businesses including:
Software & SaaS
eCommerce Websites
Business Websites
Membership Websites
Booking/Travel Portals
LMS Websites
Directories & Forums
Educational Websites
If your website is an integral part of your business or organization, Record is a must have website tool.
Record Use Cases
Customer Technical Support
Give your customers a stress-free and streamlined support experience. Additionally, optimize your team so that they can handle more support tickets than they would without Record.
Internal Team Technical/IT Support
Don't let internal technical issues linger longer than they need to. Let Record help your support staff quickly resolve issues to minimize downtime, which can be time-consuming and expensive.
Want a sneak peek on how Record actually 'Records'? watch the demo below
Deal Terms
Lifetime access to Record
All future Plan updates for matching plan tier
You must activate your license within 60 days of purchase
30-day money-back guarantee, no matter the reason
Features Included in All Plans
Record Capture
Record Analytics
Filters and Views
Integrations with Customer Helpdesk SaaS Platforms
Unlimited Domains / Sites
Web SDK / API
Cname / Custom Domain
Click Here to View The Record User Experience Screen Capture CX Data Analysis Lifetime Deal For Yourself
You may also like