Choose Your Desired Option(s)
Scrapbook Lifetime Deal
Get instant access to 280+ growth marketing tactics used by hyper-growth tech companies like Slack and Dropbox. Never run out of tactic ideas again.
How do you grow your business successfully?
You need to find new tactics, but where do you start?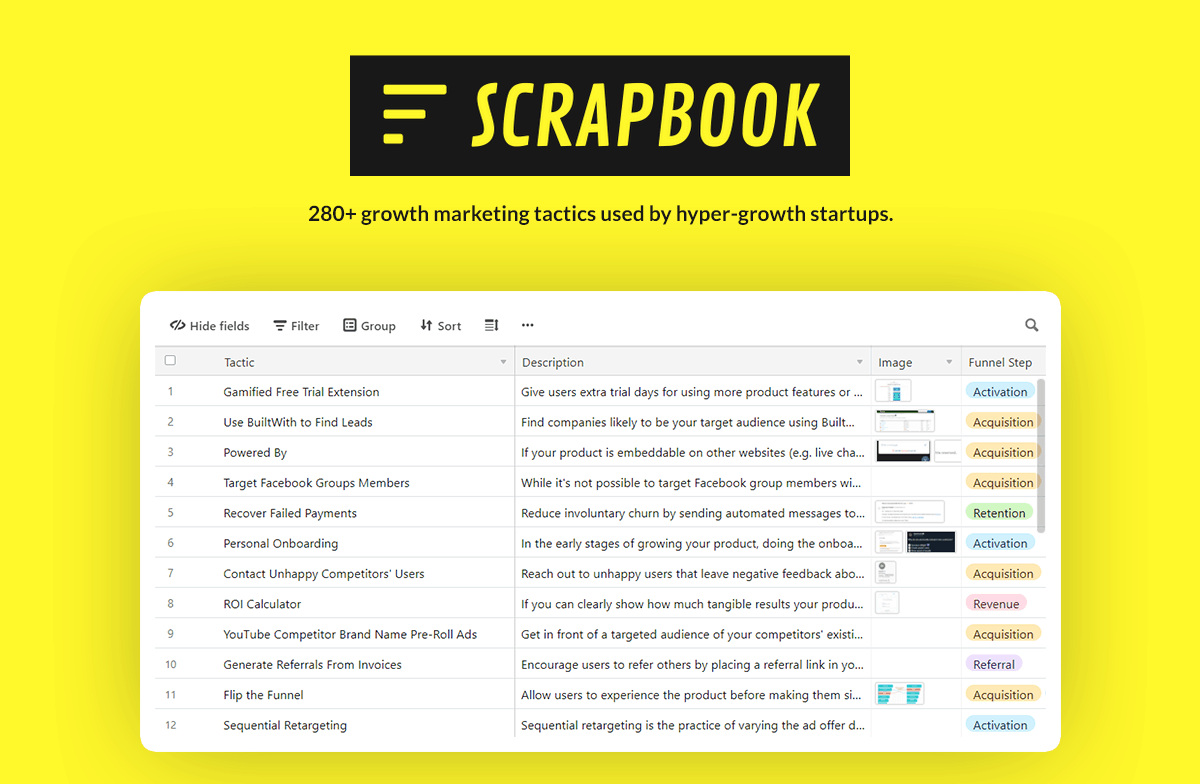 Scrapbook has already done the research for you. This database will help you discover 280+ growth tactics that have been used by startups like Slack, Hubspot, and Atlassian.
Scrapbook is the only growth marketing tactics database of its kind.
Click Here to View The Scrapbook Lifetime Deal For Yourself
Never Run Out Of Tactic Ideas Again With The Growth Marketing Tactics Database
Scrapbook is a one-stop-shop for founders to learn, discover and apply growth tactics used by other hypergrowth startups and scale-ups.
Scrapbook is the ultimate resource for growth marketers who want to stay ahead in their game by using tried and true methods from hyper-growth companies like Airbnb, Uber, Dropbox and Slack.
With over 280+ growth tactic ideas in an easy-to-use database, you will never run out of ideas again. Just filter on any stage on the funnel, tag, or budget, and get instant access to all the growth tactic data available.
New growth marketing tactics and studies are added each month.
Click Here to View The Scrapbook Lifetime Deal For Yourself
280+ Tactics Used By Hyper-Growth Startups.
Scale-up your SaaS business with 280+ easily filterable tactic ideas for every step of the funnel.
Acquisition
From things that don't scale to get your first users, to ad tactics, to website A/B test ideas, to content and SEO tactics, to unconventional ways of reaching your audience. Filter by required budget.
Activation
Help more users reach the 'Aha!' moment in your product with email, in-app onboarding, psychological, and gamification tactics. Test new ways that incentivize users to engage with your product more and help them see the value faster.
Retention
Improving retention has over 2x the impact on revenue as acquisition. Find new ways to keep users coming back to your product and decrease churn.
Referral
Get new ideas for how to make existing users recommend your product to other people and make this process as efficient as possible.
Revenue
Discover new tactics that will help you convert more free users to customers, increase average order value, optimize your pricing, increase the perceived value of your product, and many more.
180+ Tactics Used By The Highest Converting, Fastest Growing Stores On The Internet
From homepage to checkout, get new tactic ideas and improve the underperforming steps of your funnel.
The tactics are real-world examples. Don't try to reinvent the wheel. Test tactics used by best-in-class eCommerce stores to create high-converting machines.
Apply tactics to get more traffic and a higher conversion rate. Inside you'll find: ad tactics, ideas on how to optimize your pricing, increase the perceived value of your product, decrease cart and checkout abandonment, psychological tactics, referral tactics, ideas on how to increase average order value, personalization tactics, and much more.
Don't miss out on your chance to secure access to Scrapbook Lifetime Deal at a one-time fee for lifetime access! Click the button below to check it out.
Click Here to View The Scrapbook Lifetime Deal For Yourself
You may also like