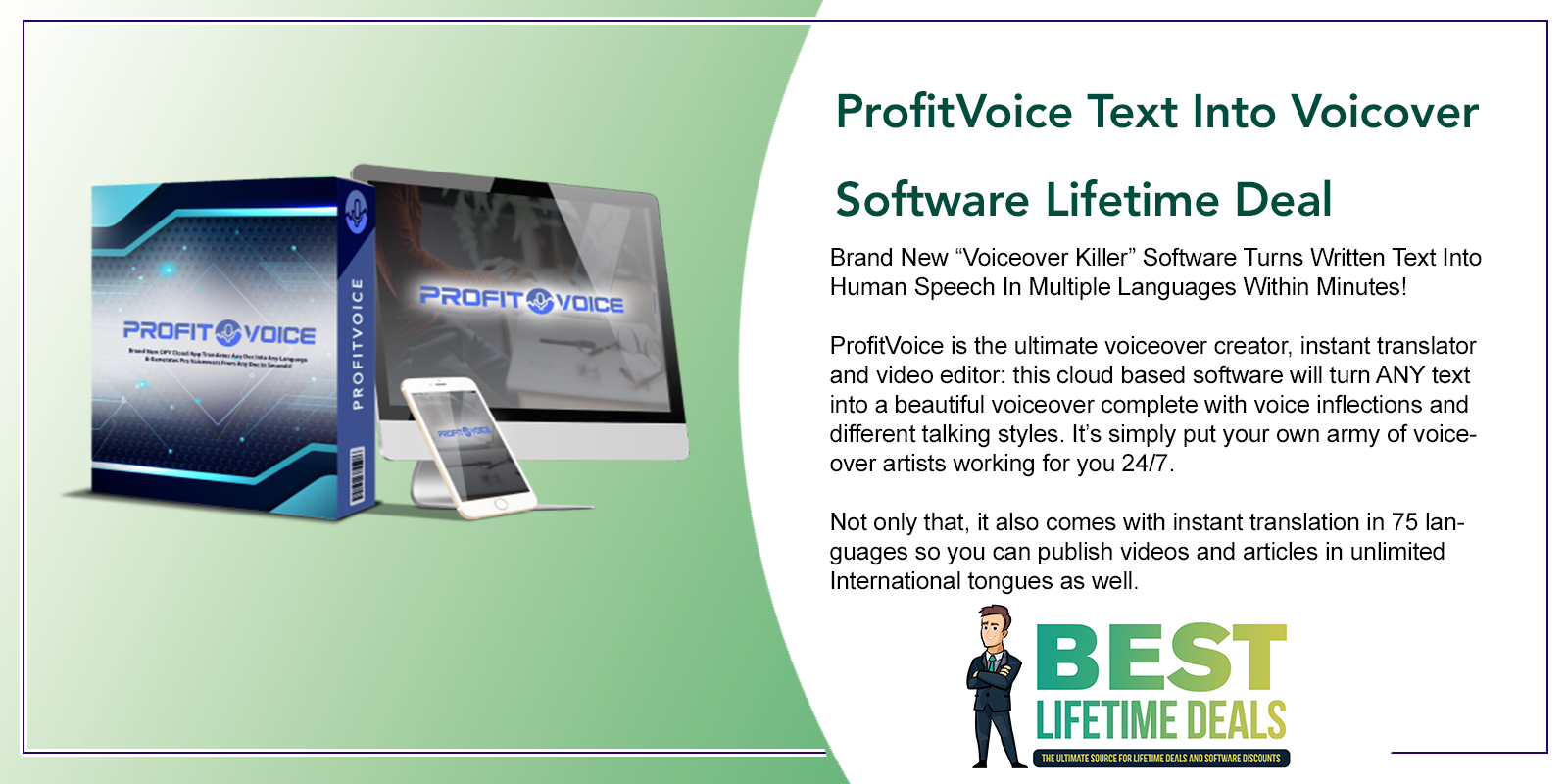 ProfitVoice Text Into Voicover Software Lifetime Deal
in
Choose Your Desired Option(s)
ProfitVoice Text Into Voicover Software Lifetime Deal
Brand New "Voiceover Killer" Software Turns Written Text Into Human Speech In Multiple Languages Within Minutes!
ProfitVoice is the ultimate voiceover creator, instant translator and video editor: this cloud based software will turn ANY text into a beautiful voiceover complete with voice inflections and different talking styles. It's simply put your own army of voiceover artists working for you 24/7.
Not only that, it also comes with instant translation in 75 languages so you can publish videos and articles in unlimited International tongues as well.
Plus, it even has its own video maker so you can combine it with translation and voiceover and become the next TikTok & Youtube sensation – on the US market and abroad as well, using the power of translation.
It's 100% SIMPLE to use, and it works incredible well – the sales video on THIS page you're watching and listening to has been created with ProfitVoice – even those words you're hearing are software-generated.
ProfitVoice Automates High Ticket Sales For Yourself & Your Clients In Just 3 Simple Steps!
STEP 1: Login To Our Stunning Cloud-Based Voiceover, Translation & Video Editor Software!
(There is NOTHING for you to download, install or configure)
STEP 2: Paste ANY Text Into ProfitVoice & Select Your Languages!
(The software will automatically turn text into voice and translate it in your chosen language)
STEP 3: Download Your New Voiceover Or Add It To The Built-In Video Editor With AI Simplicity Within Seconds!
(That includes the ability to clip, trim & join videos, add intros and outros, mix in filters, music or subtitles and even use our thumbnail creator)

Profitvoice Features:
Cloud-Based "VoiceOver Killer" Text-To-Speech Software: ProfitVoice Runs Fully In The Cloud. There's no download or installation process. Just login, paste your text and watch it get turned into human-sounding speech. It's simple and it's fun and it can be done right away, on any platform, from anywhere on Earth!
Multiple Different Voices In 75 Languages With Voice Inflections: Your own army of voiceover artists, in different voice styles, with voice inflections you can choose from – pick from over 75 languages.
Ultimate Video Maker For Youtube, TikTok And Affiliate Offers: Your Own Video maker turns your text & voiceover into a fully fledged video you can then publish to Youtube, TikTok or use to promote affiliate offers.
Commercial Rights = SELL Anything: With Lifetime commercial rights built-in, you can sell voiceovers, translations or even entire video editing services on places like Fiverr and get paid handsomely to do so!
A.I.-Based Means Next Level Editing Doesn't Have To Be Hard: ProfitVoice runs on AI code, which means you just have to tell the software what you want, and it will get it done for you. No tweaking involved for you. That means adding filters, animations, subtitles, watermarks and transitions are all 1 click away!
Podcasts Like You've Never Seen Before: Use the text-to-speech feature to turn any text into a fully fledged podcast in any language, then publish for traffic and sales on all major podcast platforms.
Subtitles Let You Reach A WorldWide Audience: It comes with subtitles in any language so you can now reach audiences in 180+ different countries. That's right – ProfitVoice Subtitles gets you Netflix-level of market coverage!
Thumbnail Creator Makes You Stand Out: Have you ever seen how thumbnails look like on Youtube? They instantly grab your attention and are created by expert designers to make you click. Well ProfitVoice has the same thing, only it's better, faster and it only takes 1 click for you to get yours. So you can now be the next "Youtube Star".
Done-For-You Products To Promote: Just activate one of their DFY affiliate offers, edit any of the pre-recorded videos they give you and insert your affiliate link and be on your way to $1,000+ commissions without doing any work!
Publish & Share Instantly: With just 1 click you can now export & publish your voiceover & video anywhere on Earth. Download to your computer, or make it go live on the world's biggest platforms. It's all easy to do with ProfitVoice.
Built-In Training To Get You Monthly Income: Unlike other programs they've built over-the-shoulder case studies and in-depth training straight into ProfitVoice showing you step by step how to create, edit & publish a winning voiceover, translation or video!
24/7 "White Glove" Support: Their dedicated support concierge team is ready to accommodate any request, question or suggestion. They're here for you any time day or night – there is always someone on their support desk no matter the hour.
And So Much More – ProfitVoice Is A Software Like No Other.
What Is ProfitVoice?
Fully-Fledged, Cloud Software Solution!
Fastest Way To Dominate The $4.4 Billion Voice-Acting Industry!
Create Jaw-Dropping $10+ EPC Voiceovers Using ProfitVoice's Proprietary Tech!
Use 100s Of 7 Figure, "Battle Tested" Templates On Your Own Projects!
Sell Voiceover Services To Other People With Built-In Commercial License!
Generate 100% Unique Content In Any Niche Using Proprietary AI Tech!
Create Voiceovers In ANY Language Using ProfitVoice's PERFECT AI Translator.
One-Time Payment Only…NO Ongoing Fees!
Comes Complete With Quality Video Tutorials & More!
Perfect For Affiliates, eCom Sellers, Offline…Everyone!
100% Newbie-Friendly, Easy-To-Use Software!
Full Commercial Rights – Offer These Incredible Services To Clients!
This Shortcut To Online Success That Will Get You Results!!
So What Are The Benefits for the ProfitVoice Text Into Voicover Software Lifetime Deal?
Launch A Fully-Fledged Online Business In Seconds!
Start EARNING From Day One!
Create Winning Voiceovers You Can Sell To Your Clients!
One-Time Payment Only – NO Monthly Fees!
Changes The Way You Create Videos From The Ground Up!
Our Cutting-Edge Tech Provides The HIGHEST Level Of Quality!
All-In-One Panel Loaded With Pro Tools To Make Money Online!
Comes With Free Commercial License!
Saves You A Fortune In Time & Money!
ProfitVoice Has Been Fully Tested By Us Personally!
ProfitVoice Is Proven To Offer The BEST Online Solution!
Stop Stressing Over Expensive Voice-Actors…Those Worries Are Now Gone!
ProfitVoice Will Give YOUR Customers The Best Possible Experience!
Customers Receive The ProfitVoice Software, Video Tutorials… Everything Needed To Succeed!
What Profitvoice Can Do For You
Turn ANY Written Text Into Speech With Human-Quality & Use For Yourself Or Clients
TRANSLATE Any Voiceover Into Over 75 Different Languages To Tap Into The Foreign Market
AI Based Video Creator & Editor Built-In For Video Creation Services
Publish & Share With 1 Click
COMMERCIAL LICENSE Built In: Sell Voiceovers, Translations & Videos To Local Businesses
Create Jaw-Dropping Attention Getting Thumbnails (Just Like You See On Youtube)
Unlimited Free End-To-End SSL Encryption Protects You, Your Privacy And Personal Data
Included Done-For-You Affiliate Offers To Promote
100% Newbie Friendly
No Monthly Fees – Pay Once, Use Forever
Double Your Money Back Guarantee
24/7 Support From Marketing Gurus
Click Here to View The ProfitVoice Text Into Voicover Software Lifetime Deal For Yourself
You may also like